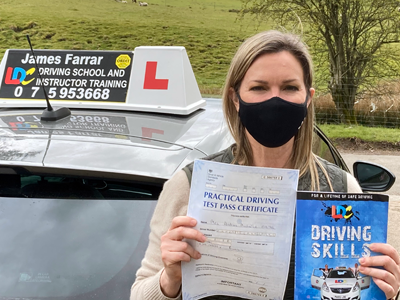 Andrea Oates
USA to UK A first time pass
James, Thank you again for helping me pass my UK driving exam. I know you know how much it means to me being able to drive independently again. I feel very fortunate to have such a highly skilled instructor in my area. There were other choices, but even before I met you, I was impressed with the level of training and certifications you have achieved. Your lessons did not disappoint. Your calm demeanour and method of explanation helped me learn the differences in driving in the UK whilst calming my anxiety. As I took my exam today, I was so impressed to discover I had already practised on the roads during our lessons. I felt very prepared. I can't thank you enough. We will reach out when our teenager is ready for lessons in another year. Andi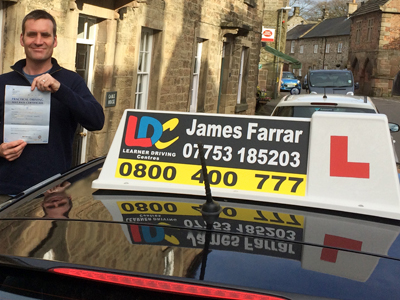 Tim Layton
Passed 1st time
After an unexpected delay of 25 years, I decided to finally take my car driving test. I found James' website online and was immediately impressed by the LDC learning programme. I am a sailor now, but previously I was an education manager, so I used to write and assess learning programmes. I applied last minute but there was no room for an intensive course within my timescale. James meticulously arranged a series of 20 hours learning, fitting me in whenever he could. I could easily have gone to another school, but I wanted to use the LDC programme and was impressed by James' organisation. I'm delighted I did, as both the programme and the instruction were excellent. The programme is very well thought out and ensures you cover absolutely everything. The instructor, James, is patient, reliable, communicative and highly skilled. By the time of the test, I was fully prepared and as I'd done my homework, I knew I'd pass. Just as well, as a week later my wife and I drove to Montenegro, and I did everything except the German autobahns! Thanks James and LDC, can't recommend you highly enough. Tim
Sharlotte Amos
Passed 1st time
The LDC workbook is a fantastic way to learn and educate your self for driving. It is particularly useful with its diagrams and clear explanations. My driving instructor was always very professional and patient. He taught in a clear understandable way and made sure that repetition and practice was key to successful driving. I found James and LDC very professional.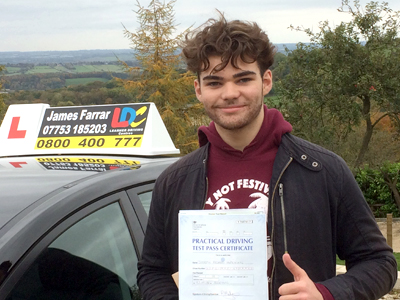 Joseph Hopkinson
Passed 1st time
I found James to be a fantastic instructor, as his way of teaching made it easy for me to pass my test first time as everything he said really stuck in my head and was easy to follow. LDC also give you a text book free of charge with the 5 hours for £60 deal, which i found especially useful with manoeuvres due to its detailed step by step guide. James and LDC were extremely professional throughout my learning experience.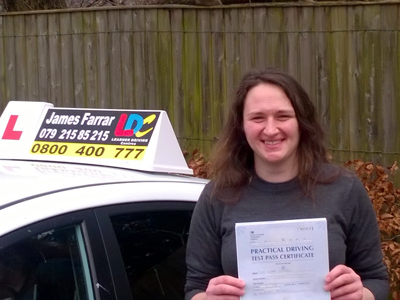 Sarah Stimpson
Passed 1st time with 0 minor faults
I found LDC driving school through google and was directed to James' website. I was very impressed with how LDC looked as a company. The booking process was very simple and I received my LD system products very quickly I found the DVD very helpful with the manoeuvres and the workbook was excellent at providing information for all the sections. James was excellent at helping me reach my goals. Any time I had difficulties with certain aspects of driving, James found a solution that seemed to suit me perfectly. I couldn't believe it when the examiner said "You've passed with no faults". Thanks Sarah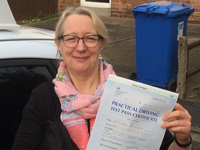 Carol Clarke
Passed 1st time with LDC
After being unsuccessful on my driving test with previous driving schools, I was recommended to James by a relative who had passed with him first time. When I was doing lessons with James, I found his way of teaching very simple to understand. Coupled with The LDC workbook, my confidence increased and I was amazed when I passed on my first attempt with James. Thank you so much. Carol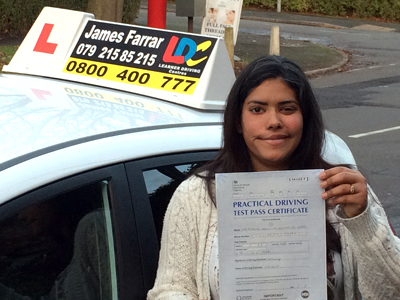 Roseanna Spray
Passed 1st time
I was very happy with LDC and their products, especially the workbook. I found the flow chart excellent as it allowed me to have more choice on how my lessons were planned. I found James to be a very reassuring driving instructor whom always had a solution to any problem I encountered. James was very patient and I wouldn't hesitate in recommending him to any of my friends or family. Thank you James. Roxy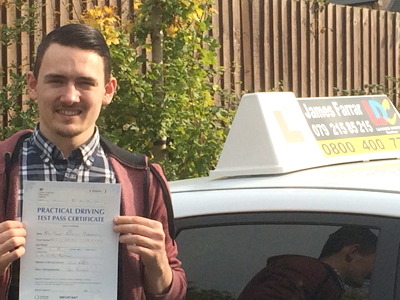 Scott Marshall
Passed with 3 minors
I decided to use LDC because I found The LD system to be very comprehensive and easy to use. It allowed me to map my progress accurately so that I could see how far away my target of passing was with a simple glance. James Farrar was The local LDC instructor for Matlock. I found James very calming and he explained my targets in a simple manner. Thank you to the both of you. Scott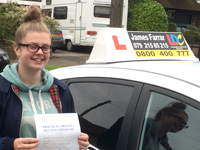 Charlie Houlton
Passed With 1 Minor Fault
LDC is a great company to learn to drive with, they are supper helpful and have books and DVDs to help you along. Everything is made simple and broken down into easy sections! My instructor, James, was great! He went over everything I wasn't sure on and was really encouraging, I could tell he believed in me and my ability to drive. I would (and have) recommended LDC to many of my friends who rave about it just as much as I do! Thank you so much LDC and James! I've had the best time learning to drive.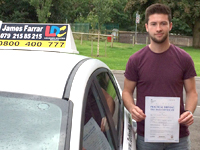 Joseph
I found the 30 hour semi intensive course perfect for a beginner. It provides enough time for you to feel completely comfortable when your driving test comes around.
The LD system is an excellent and thorough guide to all aspects of what you will need to know to pass,
Finally, James was a very calming and experienced presence to have beside you, and has equipped me perfectly to get on the road.
Alison - New Mills
I found James to be a very calm and helpful instructor. Whenever I had difficulties with a certain aspect of driving, James would teach me a different way to overcome the problem. I also found The LDC workbook very helpful and found it to be very good value, especially as it formed part of the start up package. Thank you.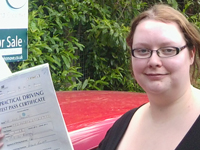 Lucy Pashley
I passed after an intensive course with James. I had tried another instructor the previous year, but with James, his attention to detail and calming influence for a nervous non confident driver really helped. I passed with only 1 minor fault and feel able to drive safely rather than be able to pass a test. Thank you very much.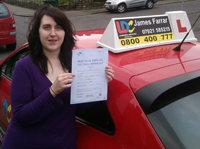 Fiona Tulloch
I did a semi intensive course with James and passed first time. I feel like it really benefited me and helped me to build my confidence. I would definitely recommend it. Thanks James.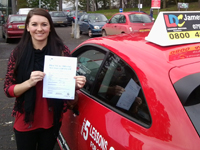 Deanna Hanford
I did a weeks intensive driving course with James and passed first time. I found it to be the best way of learning for me as it took a short time and built my confidence up quickly. Thank you James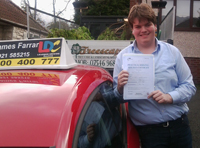 James Newman
I took an intensive course with James and have successfully passed my driving test. I found the materials provided on the course very useful. James also explained all aspects of driving simply and the support he gave was excellent. Many thanks James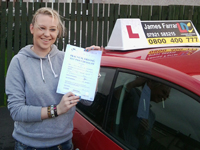 Kirsty McGregor
I have taken lessons with James Farrar, and with his help I was able to pass my driving test. I had previous instructors but found that the methods James used were most effective to my learning. Thank you very much.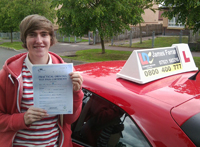 Danny Milne
I took a 30 hour intensive course with James using The LDC system and passed first time. James used great teaching points and used techniques to help me overcome any task. Many thanks James.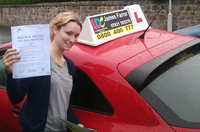 Hannah Dewar
I passed first time with LDC with a lot of great help from my instructor James. Thank you!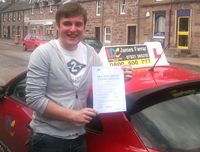 Logan McConnaughy
First Time Pass
James is the best instructor I have had. I have had 3 instructors and James made driving simple to learn. He also provided me with better knowledge and understanding as well as improving my spacial awareness.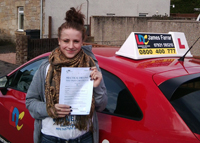 Felicity Baker
James is a fantastic instructor. He is very patient and calm and praises good driving. I would recommend James to anyone who wishes to begin driving lessons.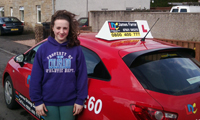 Annabel Baker
First time pass
James is a very supportive and patient driving instructor. He encouraged me even when I did not belive I could pass. I would recommend James to anyone wishing to start driving lessons.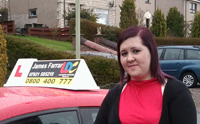 Claire
First time pass
James is a great instructor, has a lot of patience and explains everything in a manner that is really easy to understand. I would recommend him to anyone wishing to learn how to drive.